Hello there lovebirds! Spring fever is in full swing and with the warm weather FINALLY here, people are ready to come out of hibernation. Whether you are married, dating, single, or on the verge of it's complicated, it never hurts to have a list of new date night spots to choose from. Am I right or am I right or am I right? Sorry that was Ned Ryerson from Groundhog Day talking for a second. Bing! :)
The term 'Date Night' may mean something different to you than it does for me. For Sir Rocha Says, date night does not have to equate to impressing your somebody with that dainty plate of escargot and a $100 bottle of Bordeaux. If that is how you are going to win your lady friend or man over, than we need to have a serious heart to heart.
Date night for me translates to a place that is warm and inviting, cozy and intimate, all the while evoking a lively and energetic vibe. You don't want to fall asleep, that would be lame-O! Date night is a place where we can have a good conversation without having to scream over the table at another. A place that has insanely good food and serves a real meal, not just a piece of shrimp to share. You don't want to see me HANGRY, trust me it's not very pretty. Not only are we looking for flavorful food, but a varied selection of either cocktails, beers, or wines as well. Most of all date night is a place where you feel welcome and you can enjoy your night, without having to spend an excessive amount of money.
If all of the above sounds good to you, then let's keep talking.
I put together a collective list of date night restaurants for you and your hot date to check out. There are tons of restaurants in the area I could potentially choose from, but I based my list on recency and all of the qualities I mentioned above. My intent is to give you new ideas and perhaps you may even get a big smoocher from your date for trying somewhere different. Hubba Hubba.
Here we go in randomized order, 7 Must-Try Date Night Spots in the lovely Rochester area:
*Some of the spots have multiple photos, so make sure you scroll through them all to get the full shebang.
1 ROUX, 688 Park Ave, 585-461-2960. While you can't help but reminisce about the former Cibon Restaurant, ROUX will bring you back to the present with their newly inspired French Menu. If you happen to get out of work early, happy hour runs from 4-6 pm with $2 off all their craft cocktails. Try the Pimm's Cup or Dark + Stormy, 2 of my personal favorites. Rather go for wine? Start with the 'Holy Trinity' which comes with a bottle of the House Bordeaux, cheese plate, and demi-baguette. Remember I said don't order that $100 Bordeaux, well I'm still sticking to that. We ordered the bottle of wine and cheese plate for a grand total of $36. Not too shabby! The lavender infused honey served with the baguette is unreal. For dinner I would HIGHLY suggest the Roux Burger! I love a good, juicy burger and this one will not let you down. If you want to be like me make sure you order it medium rare with gruyere, bacon, and to be super sexy ask for an egg on top. The other dish I would recommend is the Roux Bouillabaisse, a seafood stew in a tasty pernod broth that is ideal for sharing! All in all, the date night at Roux was perfection and we'll be back again.
Verdict: The French 585 Date Night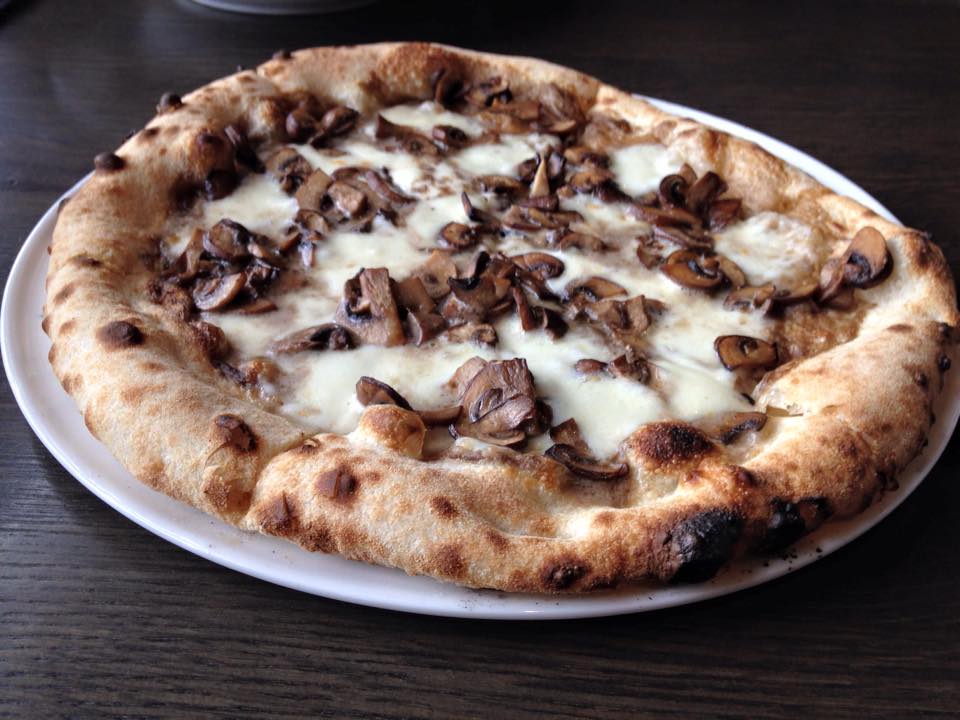 2 BRANCA, 683 Pittsford Victor Rd., 585-310-7415. Two years ago, I took my first trip to Italy and had the opportunity to make pizza with an Italian Chef who spoke very little english. Ever since I've had a soft spot for Italian chefs, especially ones that make food look so effortless. When Branca opened last year and I heard Chef Pasquale Sorrentino, a native from Naples, was heading up the kitchen as executive chef, I knew that I needed to check it out. First, you should know that Branca has outdoor seating and it opened up this past weekend! I'm always looking for spots you can sit outside. Second, they are the sister restaurant to the Revelry so you know they make a mean cocktail. Order from the newest cocktail menu or ask them to create something for you and your date. Third, the dishes look and taste authentic. I am a tad obsessed with the Gnocchi al ragu Napoletano. Gnocchi should taste like pillows of love and these have some extra McLovin' in them. The wood-fired neopolitan style pizzas are made right before your eyes, with a front row seat near the bar. I personally like the Tartufata Pizza, Rughetta e Prosciutto, and Branca Pizzas. Hats off to the team at Branca, you have definitely Branca-fied me!
Verdict: A Little Piece of Italy in Bushnell's Basin Date
3 LENTO, 274 N Goodman St., 585-271-3740. This past February, the James Beard foundation announced the semifinalists for the best chefs in the Northeast region and our very own chef and owner of Lento, Art Rogers was nominated. Congratulations Art, what an honor! Lento is located in the Village Gate Square, right near my craft cocktail friends at Nox Cocktail. Lento prides themselves on their farm-to-table approach serving locally sourced, sustainable, seasonal food. Which we know, Sir Rocha Says is a huge fan of. Many people know Lento for their oyster bar & their dollar oyster nights on Tuesday, holla for a dolla! But you should also know that Wednesdays are no corkage fees for wine and Thursdays are $5 Specialty cocktails. You have to try their Traditional Poutine. I'm a poutine fanatic and they do not disappoint. Plus, they use First Light Creamery cheese curds. Love those guys! You can add bacon or foie gras for a little extra. Try one of their homemade pasta dishes or fish entrees, the menu changes so you'll never get the same dish. I've heard their milkshakes are killer, so perhaps 2 straws & one glass to end the night. Oh yeah! Lento your milkshake brings all the boys to the yard!
Verdict: You Just Got Lento'd Date Night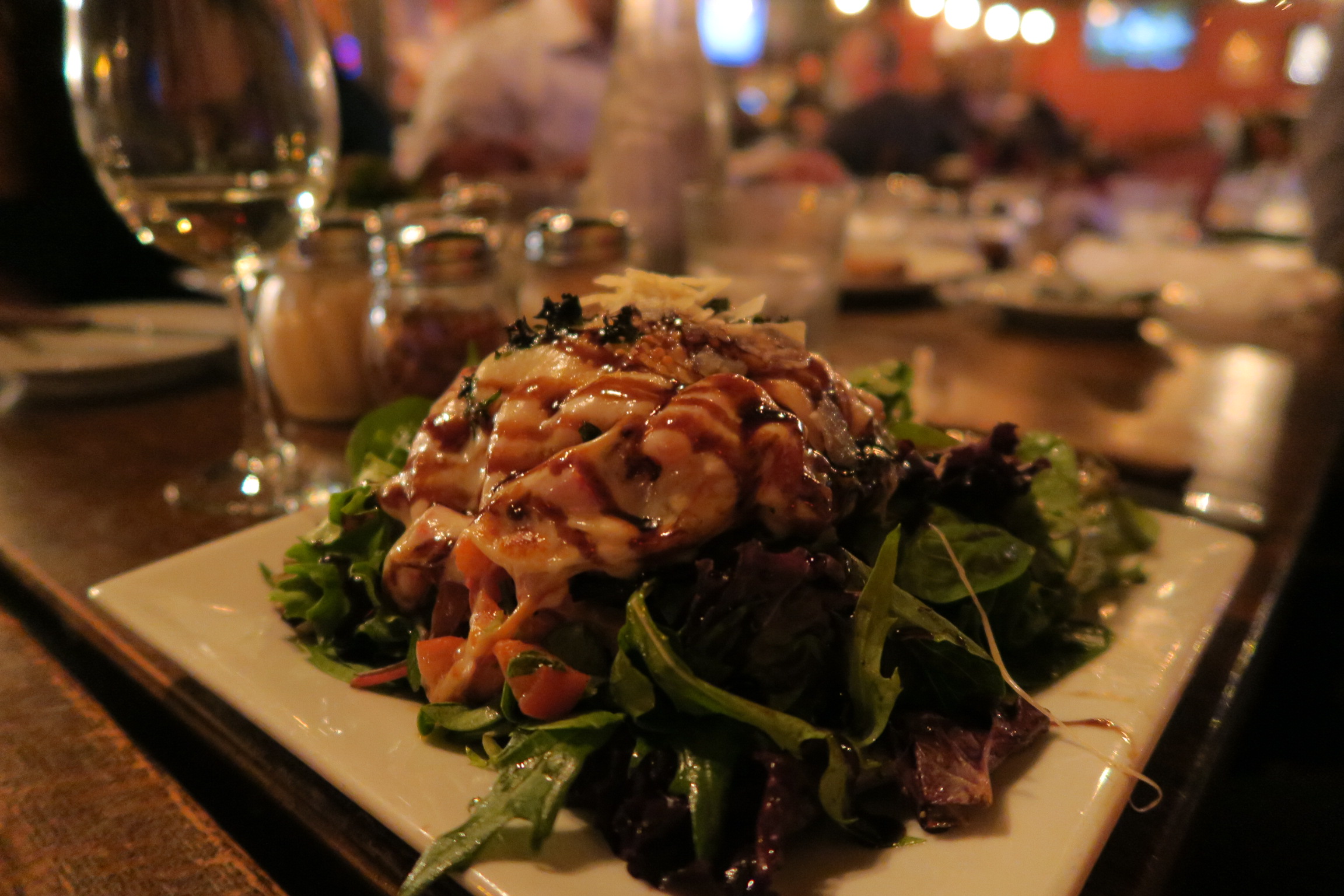 4 FIAMMA , 1308 Buffalo Rd., 585-270-4683. Fiamma is such a great Italian find in the heart of Gates. The ambiance is warm with a boisterous energy that is reminiscent of the Old World. Every Thursday, live jazz music fills the restaurant and enhances the atmosphere. The volume level is at the perfect noise level so you can still hear one another OR you can just listen to the music if you run out of things to say. If you make it in time, happy hour specials run from 5 to 7pm, cash only at the bar where you can get $5 glasses of wine and $10 pizzas. Foodwise, I would definitely start with the Portobello Caprese Salad that has gooey smoked mozzarella cheese melted over portobello mushroom, tomatoes, with a balsamic cream served over mixed greens. I am still thinking about that dish. Fiamma offers both traditional and specialty style wood-fired neopolitan pizzas. I would suggest the Carminuccio or Regina Margherita pizza. Pizza will make your date happy along with some Super Tuscan wine flowing.
Verdict: Take Me Back to the Old World Date Night
5 TAPAS 177 LOUNGE, 177 Saint Paul St., 585-262-2090. Tapas is a staple in the St. Paul district, and has been in Rochester for over 17 years. Now I have to confess that up until recently, it had been a few years since I had last dined at Tapas. Whenever we thought of date night, we were always trying to think of brand new places and Tapas just wasn't on our radar for awhile. I always associated Tapa's as that place with the delicious crispy calamari salad, refreshing mojitos, and the Makeout martini, my college drink of choice. All of those items still exist on the menu, however the food & cocktail menu has definitely evolved since my last visit. We were extremely impressed with the drinks that our bartender, Steven, whipped up for us. We had a mix of vintage cocktails like the Brooklyn and Manhattan, and for old times sake I had to get a martini. For appetizers, we shared the Curried Chicken Empanadas and Chorizo, ground beef, and Fontina meatballs. So good! Then we shared the special of the night which was a freshly made Shrimp Fra Diavolo pasta dish. We said to ourselves, 'Wow, Tapa's has really good food. Why have we have not been back here sooner???' Shame on us Tapas! Now that it's warming up, the courtyard will be opening up and we will be back in your arms again soon. <3
Verdict: Falling Back in Love with Tapas Date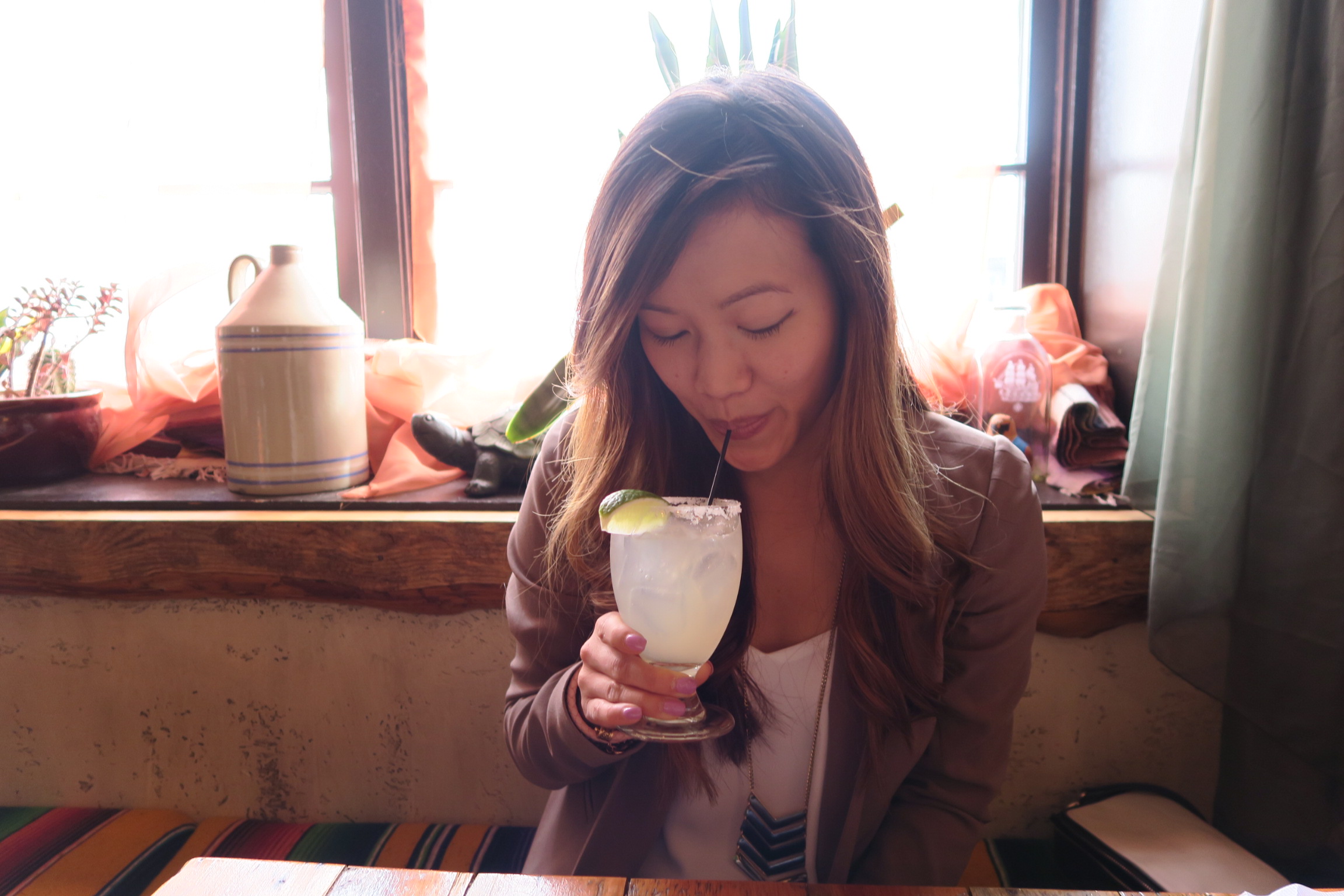 6 LA CASA 93 Alexander St., 585-730-5025. From the outside looking in, you may suspect that La Casa looks a little more like a tattoo shop versus a Mexican restaurant, but trust me you will want to check out what's inside. Especially since Cinco De Mayo is right around the corner! La Casa is located in the South Wedge across the street from Boulder Coffee. I remember coming into La Casa for the first time last summer, walking up the ramp and to my surprise it opened up to this very cool patio with picnic tables and artwork adorned on the walls. It was refreshing to find a place like this. I love the play on edgy decor paired with the feel of an old school cantina. You will need to get some margaritas to start. I feel like you can tell a lot about a Mexican place based on their margaritas and if its any indication, my husband and I are thirsty for more. Munch on the guacamole, Ensalada Pollo Mexicali, or the Chorizo/Crispy Chicken Tacos. Get ready to spice up your date amigos!
Verdict: Ooh La La La Casa Date
7CURE 50 Public Market, 585-563-7941. I couldn't do a date night post without mentioning one of my favorite places for date night! We talked about Cure in my brunch post, but now we're onto dinner. One of the newest offerings at Cure is on Thursdays, they offer a 3-course menu called the Menu du Voyageur, which will be exploring cuisine for a specific region of France rotating every 2 weeks. The prix fixe menu is $29 and serves as a unique way to experience date night. My husband and I attended one of the events where the menu was created in tribute to Julia Child cuisines. Not only did we get to sample her style of food, but I embraced my inner Julia Child by talking like her the whole night (Click to watch my skills). If you can't make it on a Thursday, then wherever you go and whatever you do, their Banh Mi Sandwich & boozy cocktails will be right there waiting for you. Aw!
Verdict: Cured of the Common Date Night
I hope this blog post brings you a little closer to that special someone or made you laugh even the tiniest bit. Looking forward to seeing you all out and about this spring, feel free to say hello! It has been so wonderful to meet some of you already.
Enjoy the warm weather my friends & cheers to many more date nights!