Rochester, NY welcomed Hart's Local Grocers this past August and boy are they thriving! Hart's is the peanut butter to our jelly, the yin to our yang, the Sriracha in our Pho, and the Rocha in our Rochacha. They made our dreams come true by bringing a downtown grocer into the East End Neighborhood, located at 10 Winthrop Street.
Hart's has a 'Farm to Fork' approach focused on supporting local (at least 20% in store), sourcing the best from our local farms and regional suppliers, and providing fresh quality, ingredients to our community. Pair that with a super friendly and committed staff and you've got yourself a reason to believe in this business. If you have not stopped into Hart's quite yet, I am hoping that after this post you will be swinging by in the near future.
So today my friends, here are the 5 Reasons to Love this place called Hart's Local Grocers:
1.

Hart's Breakfast Sammies are no joke.
All hail to Hart's Signature Breakfast Sandwich, the champion of their breakfast sammies. In this sandwich, you will find 2 happy hen eggs, sliced avocado, arugula, and pancetta with Sriracha Mayo. Don't stop there though because their whole menu is pretty spectacular. Try Hart's Savory Danish with caramelized onions, mushrooms, cheddar cheese with a sunny side up egg. Put anything with an egg on top and I am weak in the knees. Need your Corned beef hash fix? Then eat up with Hart's Corned Beef Hash and Eggs for breakfast. If you're feeling creative than make your own breakfast sandwich by changing it up with your choice of sausage or pancetta and 3 types of cheese. Do the muenster. Hungry or Hungover? Whatever the case is, you'll be set for life.
2. Neither are their Kimchee Reubens.
Hart's sandwich shop has it going on. Here we're talking melted swiss cheese over house-smoked corned beef brisket with crooked carrot kimchee, 1000 island dressing served on toasted rye bread. Is your mouth watering yet? Well don't act like you don't want it, go for it! You also have your choice of Grilled Cheese, Greek Chicken Pita, Pork Carnitas, and the Vegan Voodoo Smoked Tomato Sandwich. Based on the season, the kitchen menu continues to evolve. The special featured this past Friday was Battered cod Fish Tacos and dang those were good tacos mang!
3. The Staff is passionate about their products and it shows.
Meet cheese expert, Chris Nolan, who can tell you everything you want to know about local NYS, domestic, and international cheeses. He's extremely knowledgeable and describes cheese in a way that's easy to digest and makes you excited to try. I love CHEESE, but I am by no means a cheese connoisseur. Thank goodness for Chris and Becca (another cheese maestro at Hart's) are here to help guide us on what we should be nibbling on tonight.
For you meat lovers, you now have the opportunity to learn straight from the butcher and meat staff at Hart's. A new series was launched in January by Korey Mobilio (Meat & Seafood Supervisor) in sausage-making and beef butchery. If you have ever sampled Hart's in-house sausage, then you know they know a thing or two about making fresh and flavorful sausage. Plus, their beef and pork is sourced locally from regional farms. Experts supporting Local? Double whammy!
Check out upcoming classes for March and April, here.
4. All your favorite Rochester goodies are under one roof.
Thank you Hart's for making our lives easier. While I enjoy stopping by my local favorite shops, it is tough to visit them all in one day. Hart's features some of the best local products around. I don't know of another place where I can find under one roof: Pittsford Dairy Milk, Balsam Bagels, Donut's Delite, Baker Street Bread, Scratch Bake Shop Cookies, Eat Me Ice Cream, Fuego Coffee, Rohrbach's Beer, etc. ....the list is endless. Hart's has also introduced me to new Rochester products, such as Guglielmo's homegrown marinara sauce and Happy Earth Tea owned by Niraj Lama and his wife Mary. I sampled the sauce and tea for the first time at one of their vendor markets, which allows you to meet local vendors and taste their offerings.
In fact, this month Hart's is hosting a Spring Vendor Market on Saturday, March 28th from 12-4, where you can meet over 24 local vendors & get your sample on. Why not show your support for our local community and try new products! I promise you will bring at least one new local product home with you.
Scroll through the photos below to get see some examples of local products you can find at Hart's: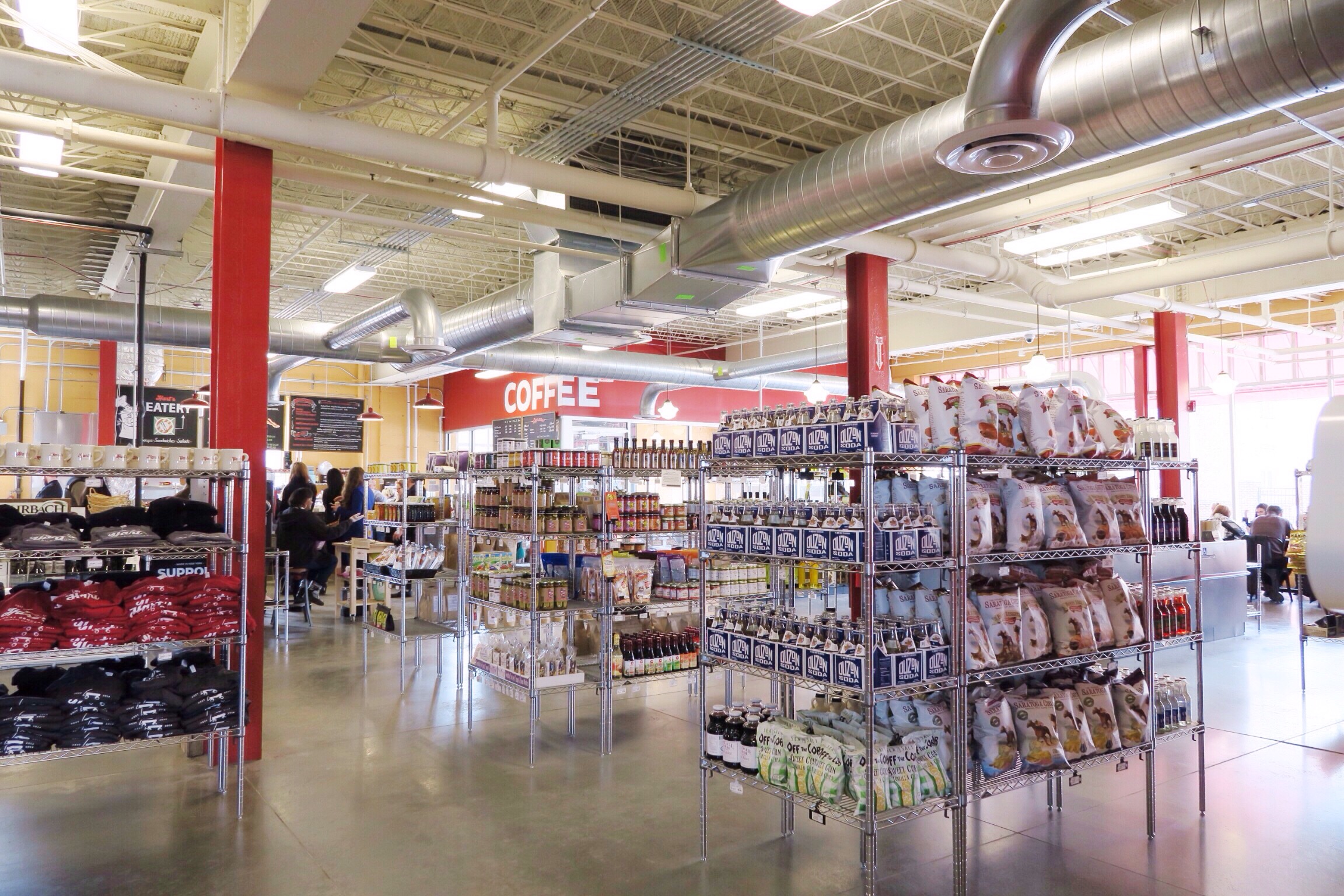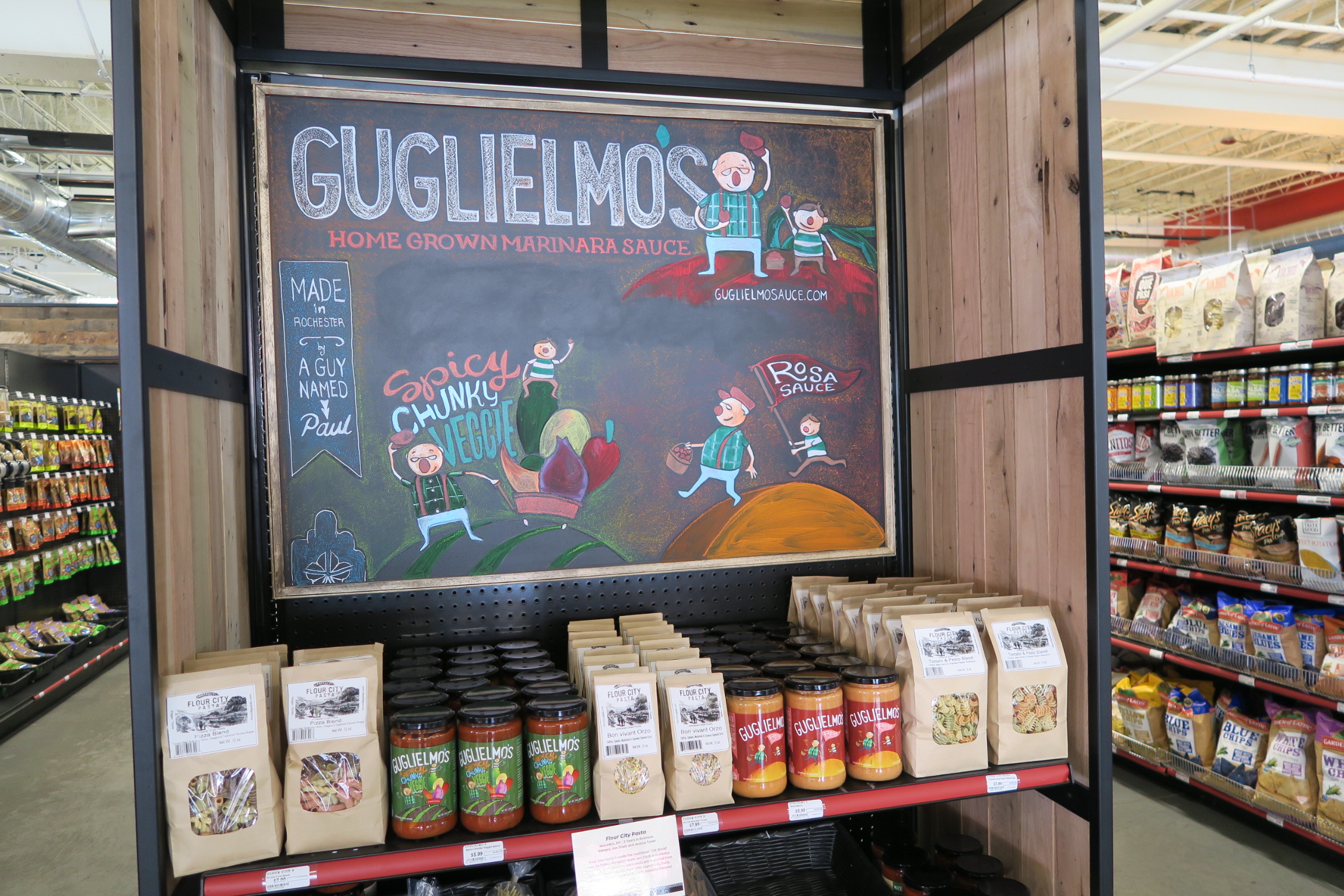 5. Hart's is more than just an urban grocery store. They are your local neighborhood experience.
There is something really special and unique about Hart's Local Grocers and what they are bringing to our community. They bring the nostalgia of the former neighborhood market founded in the 1800's and that spirit shines through. They bring a whole new meaning to city living and have promoted a walkable and bikeable shopping destination for city residents. They are to the core, a prime example of a business that lives and breathes Rochester. You have stolen my heart Hart's and I am sure you will do the same for many others.
Thank you for making me a believer Hart's!
Thanks so much for reading and hope you enjoyed this post!
*** Normally I do a pick of the month every month. Hart's could definitely be considered my February and March picks since I love them that much. After creating new blogs posts for the past few months now, I'd like to to have some more flexibility. I'll still be discovering hidden gems, undiscovered spots, new places (Old and new) that I enjoy writing about, but not necessarily calling them all 'picks of the month'. I'm going to spice things up a bit. Hope that works for you all! Looking forward to hearing from you & thank you for supporting Sir Rocha Says!