Many of us grew up eating classic sandwiches like PB&J, Fluffernutters (Oh yeah, you remember those), Bologna, and more. The concept of of a sandwich is pretty simple to start, you have your bread, your meat/cheese/veg inside, your sauce and condiments....and voila, you've got yourself a sammy. Yet it can be ruined so easily by one single component. The bread is too soggy. There is too much mayo. The amount of onions are out of control. At the end of the day, we just want a decent sandwich where the bread is banging, the ingredients are fresh to death, the meat to bread ratio is in proportion to one another, and like Guy Fieri says, 'Takes you to Flavortown'.
In this blog post, I'll take you on a brand new tour of Rochester, one sandwich at a time. Trust me, you will want to hop on the Sir Rocha Says bus once we're done today. This post is meant to feature my recent adventures and help you try a new kind of sandwich that will delight your taste buds. If you don't see your favorite sandwich, i.e. cuban or reuben on the list, it doesn't mean it is not extraordinary. It just means we have an abundance of tasty sandwiches to try and we better start tasting.
Before we get started, let's see how we can save some moola $$$ on our upcoming exploration. I partnered with Rochester City Dining Cards to help them spread the word on their latest app which helps our community discover, eat, and save on new dining experiences in our local area.
This is a sponsored section in partnership with City Dining Cards. So stoked to work with them!
Here's how is how the Rochester City Dining App works in 5 easy steps:
1. Download the FREE City Dining Cards app directly via this link: http://bit.ly/downloadcdc or in the Apple App Store. You can also visit citydiningcards.com. Select Rochester as your city.
2. Scroll through the list of restaurants & with a simple push of a button you can save $5 on food purchases of $20 or more OR save $10 on $40 or more.
3. The more places you explore, the more money you will end up saving. You earn one chip every time you redeem a dining card. Collect 12 chips and you will earn a $20 gift certificate that is valid at any of the Roc City Dining Card restaurants. Oh hey girlfriend, dinner's on me tonight!
4. Even after you use your Save $5 or $Save 10 at a restaurant, you can reuse this deal again at the same place after 90 Days.
5. One cool trick: Not sure where you want to go for dinner? Just shake the app and it will randomly select a place for you to try! Pretty awesome right?
The best part is that you don't have an expiration date to adhere to. In comparison to Groupon or other deals with hard deadlines, you can use at your own pace without any fixed costs. On your sandwich tour, there are 3 restaurants below that you can use this app with. I will be sure to highlight which ones those are!
Now let's get to the topic at hand, which is our 11 Rochester Sandwiches to Devour! Let's get 'er done! Make sure to scroll through all the photos for your viewing pleasure. In random order, here are 11 Sammies to try: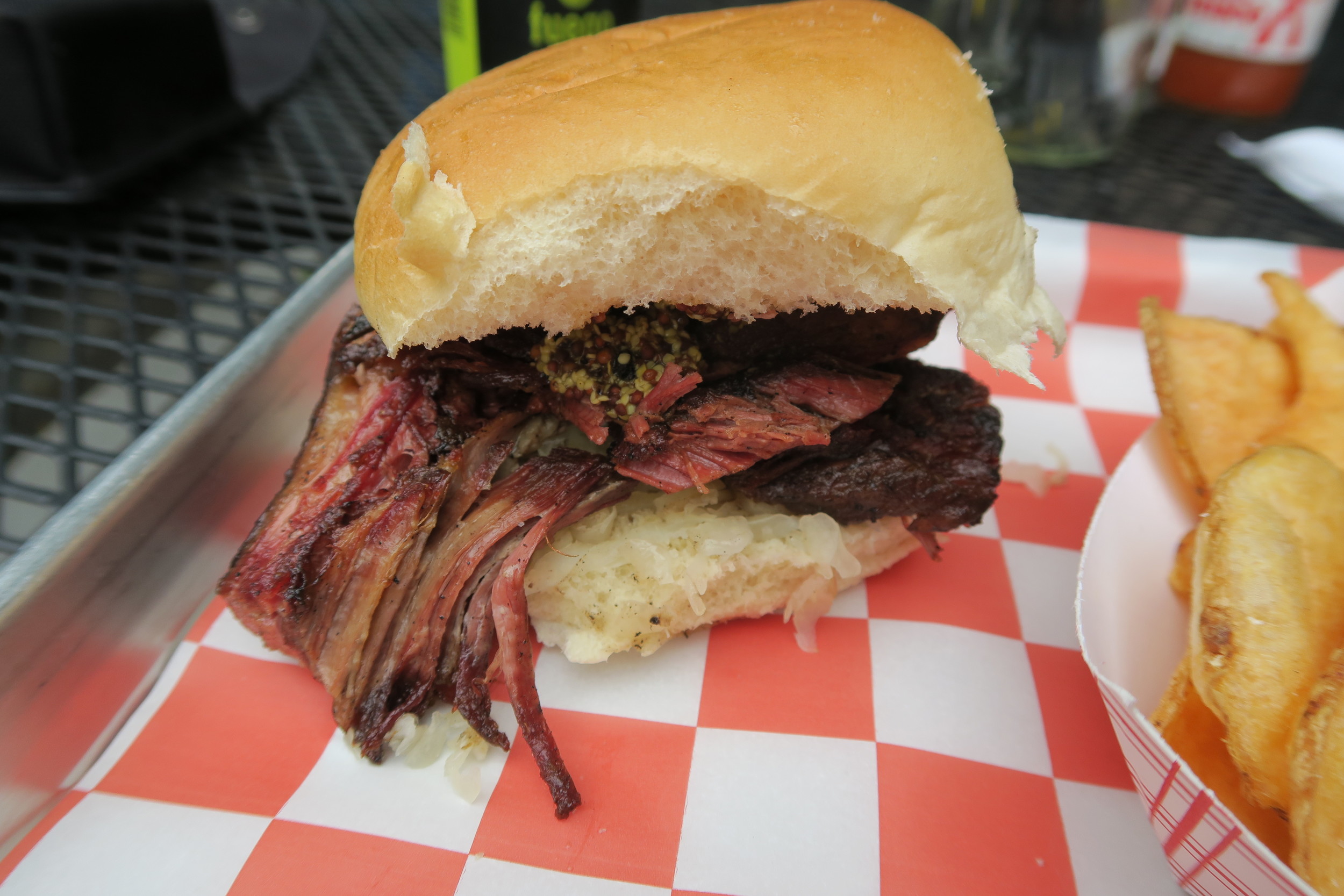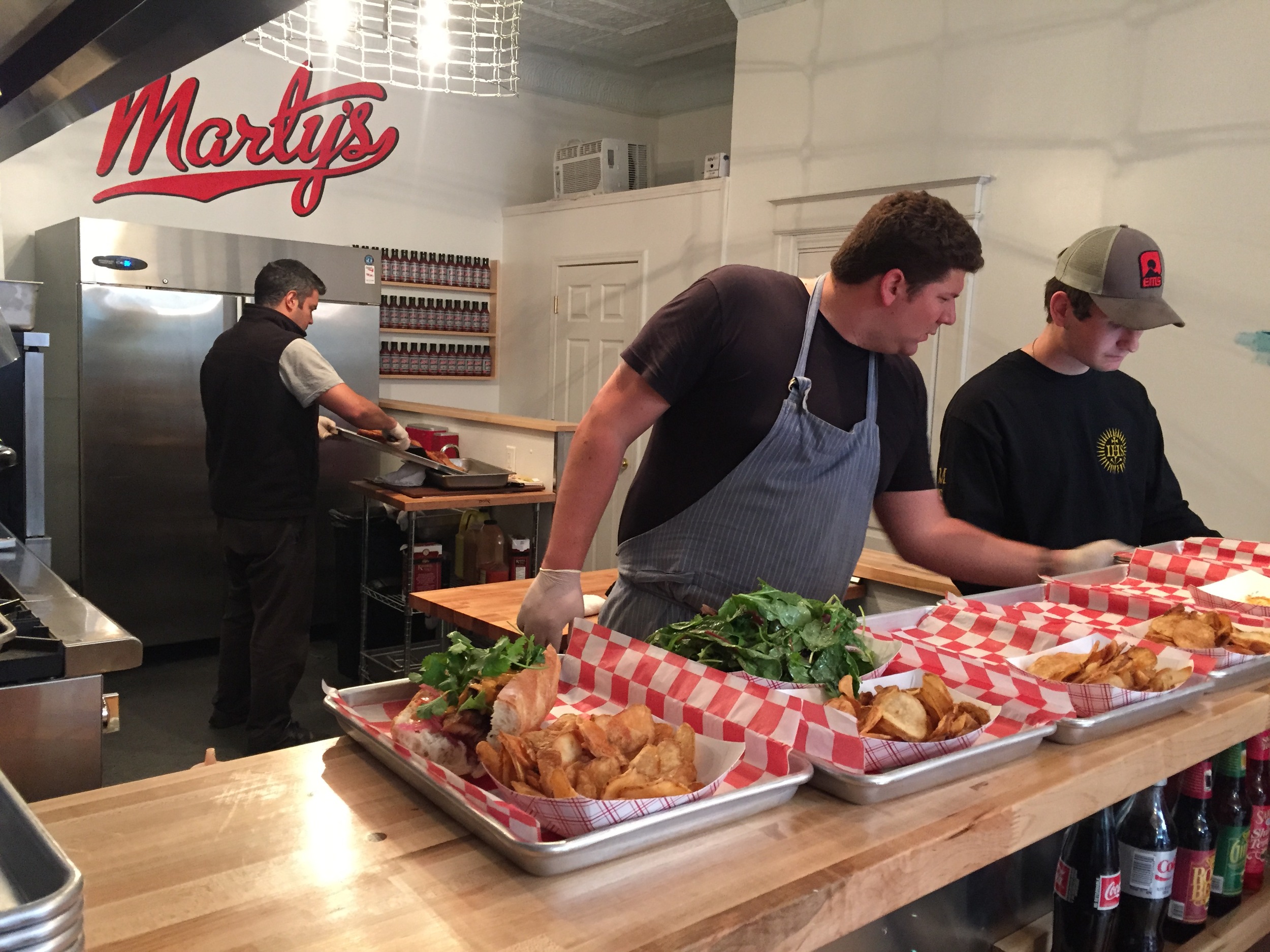 If you have already started licking your screen, it is totally fine. No one is judging. I actually almost did it myself as I was writing this. Marty's Meats sandwiches are out of control and if you have yet to devour them, then I urge you go NOW. Run if you have to, just get there. This pastrami sandwich featured above is my go-to. Chef Marty O'Sullivan and Paul Koecheler are beasts in the kitchen and they are here to fulfill your smoked meats needs. They take their time in house curing the meat and complement the pastrami with sauerkraut and mustard for a wicked sandwich. The rolls are made just for Marty's from our friends at the Village Bakery Cafe. You can get your double dose of Marty's Meats via their Gourmet Food Truck & their brick and mortar store in the Park Avenue neighborhood. Chug your sandwich down with a cold brew coffee from Fuego Coffee and finish your meal with a beer and potato chip ice cream sandwich (Made by Eat Me). You've just scored yourself quite the Rochester meal!
Marty's Meats is located at 699 Park Avenue next to Sweet Sammie Jane's (585-434-3292, martysmeats.com)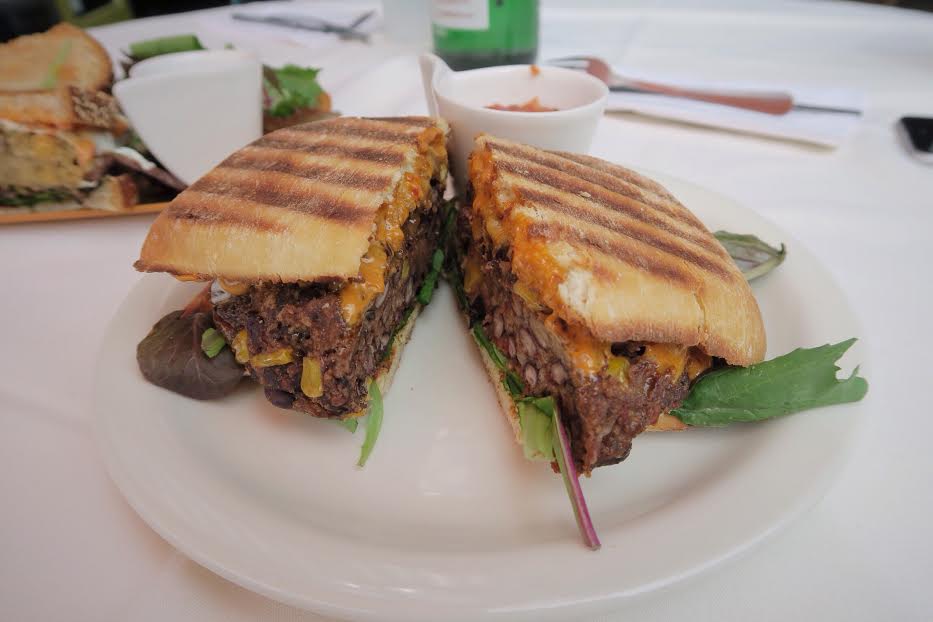 Calling all vegetarians, vegans, and even carnivores...the Orange Glory Cafe has something for everyone here. This cozy cafe sits next door to the Little Theatre. They change their menu every week day, Monday to Friday (11 to 3pm), to offer you fresh natural food with a twist. You have to try the Black Bean Burger on Ciabatta bread. You will get a mouthful of a southwest style black beans mixed with onions and tomatoes topped with melted cheddar cheese and side of salsa to pour on. The chipotle mayo on the grilled ciabatta bread gives it a nice zesty kick and crunchy texture to balance against the black beans. My husband who normally loves meaty burgers, totally forgot about meat in this sandwich equation, because it was that filling, flavorful, and in his words 'robust'. For a $2 steal, you can add a side and cookie. Get the Chocolate Chip Macadamia Nut. If it means anything, I would come to this place just for this cookie! Orange Glory Cafe, thank you for being such a glorious gem in Rochester.
Orange Glory Cafe is located at 240 East Avenue next door to the Little Theatre (585-232-7340, orangeglorycafe.com)
3. HERB ROASTED PORK SHOULDER SANDWICH @ RESTAURANT FIORELLA
A new Italian restaurant has sprung up in the Rochester Public Market, next door to our beloved European cheese shop. I first caught wind of this place through a fellow food explorer @eatliveroc on Instagram and knew I had to make a pit stop. I have already been there twice since it opened a few weeks ago and need to tell you about their Herb Roasted Pork Shoulder sandwich. This one's equipped with sautéed garlic greens, pepperoncini, and ooey gooey melted provolone cheese on a toasted baguette. I ate every last bite. I am loving the St. Monci artwork on the back wall & the comfortable family feeling this place elicits. They are currently open on Tuesdays. Thursdays, and Saturdays from 8-2pm and should be opening up for dinner soon. Can't wait to try more of their sandwiches and house made pasta dishes!
Restaurant Fiorella is located at 5 Public Market next door to Giordano's European Cheese Shop (585-434-5705, restaurantfiorella.com)
4. SMOKED TURKEY PESTO PANINI @ SAPORI CAFE
Let me start off by telling you that the grilled paninis here are SOLID. Rock solid. The Smoked Turkey Pesto panini makes my heart sing and belly happy. The smoked turkey breast is topped with caramelized onions (just the right amount), roasted red peppers, melted provolone cheese on grilled focaccia bread. The focaccia bread is straight out of Baker's Street, so you know it's good. Executive Chef, Joe Gianvecchio is incredibly talented and has an impressive amount of experience for being a young chef. This is a sweet lunch spot for Rochesterians who live or work in the city during the week. Try their signature chili or one of the soups of the day to pair with your sandwich!
Sapori Café & Catering located at 16 West Main Street inside the Powers Building in the Atrium (585-325-3507, sapori-rochester.com )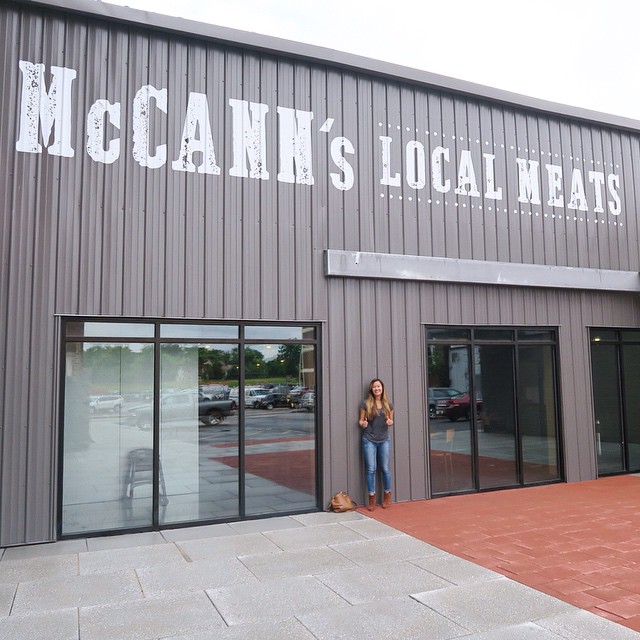 South Wedge continues to flourish and welcomed a new butcher into their 'hood, McCann's Local Meats. McCann's serves up daily sandwich specials, like this Bulgogi Sammy featured above. The Bulgogi Sandwich has it going on. The Korean beef marinated in soy sauce, garlic, scallions and sesame oil is topped with melted cheese and rice vinegar slaw. If you can take a cheat day, I highly recommend those beef fat fries. One bite and game over. I'm a potato freak and if I'm going to indulge in french fries, these would be dem! Other specials they have featured are Sloppy Joe's, Trash Plates, the McCann's Burger and more. I've had the burger and it is so tender and juiiccyyy. Kevin McCann, owner and butcher, puts a lot of thought and care into the quality of his products and service. He's a lean, mean, cuts all his meats by hand, butcher machine. Kudos to you Kevin!
McCann's Local Meats is located at 739 Clinton Ave S., next door to The Cub Room (585-EAT-MEAT, mccannslocalmeats.com)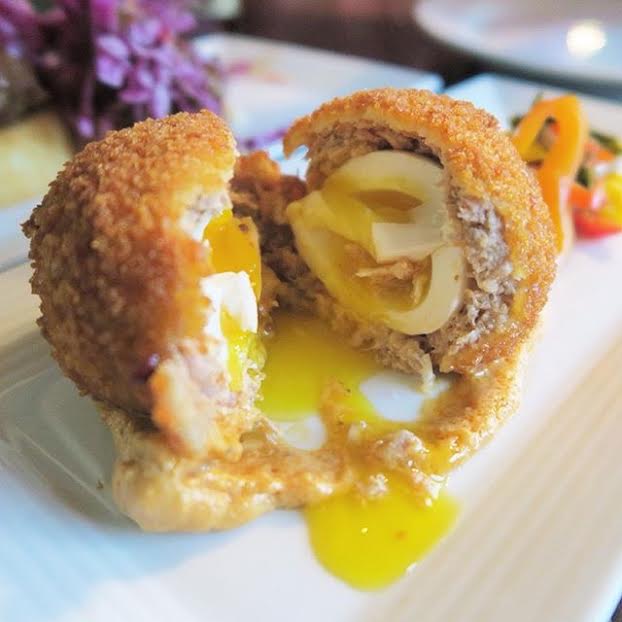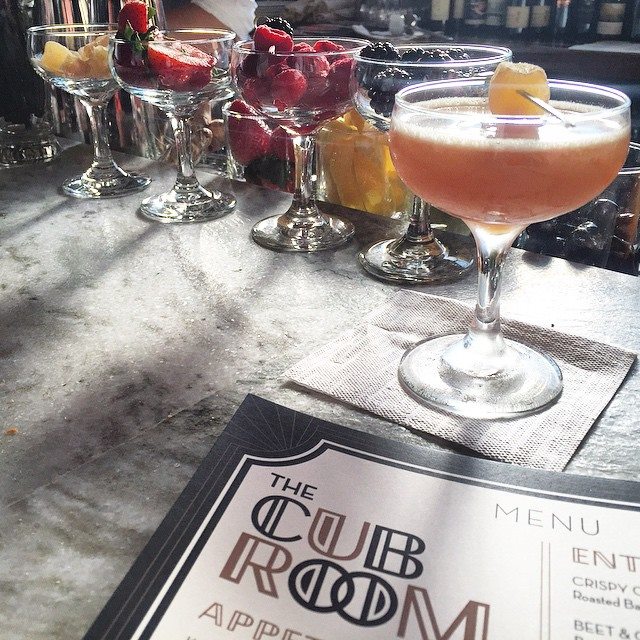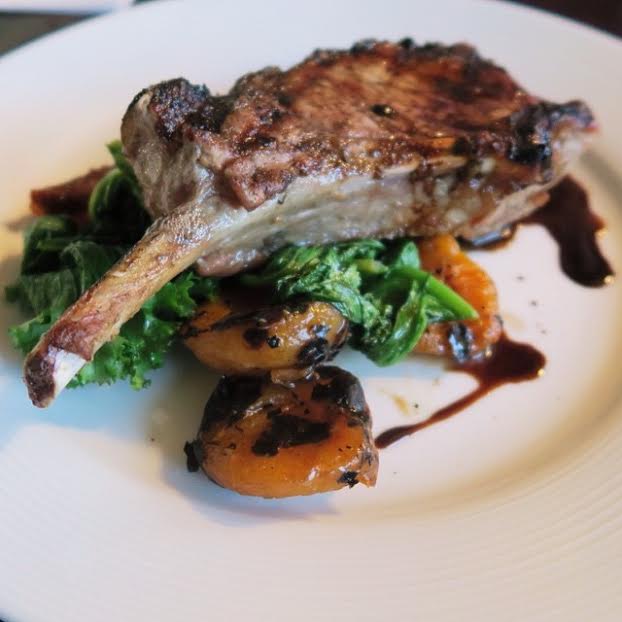 Next door to McCann's is another newbie in the South Wedge Area called The Cub Room. Owners, Jodi & Greg Johnson brought a piece of NYC back to Rochester with them. This restaurant has a speak easy feel, gorgeous bar, and even has pages of the The Great Gatsby adorned on their bathroom walls. Love it! One of their lunchtime and brunch offerings is a McCann's BLT that sources bacon from their next door neighbor. This BLT incorporates delicious fried green tomatoes to make us feel real southern, with lettuce, mayo, McCann's crispy bacon, and french fries. Mmmm mmmm. I've also been to the Cub Room for dinner and cocktails and they are spot on. If I were you, I would try the Scotch Egg, Kurobuta Pork Chop, and the Billingsley or Queen Bee Cocktail! I almost forgot to mention the fresh donuts. Shame on me!
***Save $5 or $10 by using your Rochester City Dining Card App
The Cub Room is located at 739 Clinton Ave S., next door to McCann's Local Meats (585-363-5694, www.thecubroomroc.com)
7. CHIPOTLE FISH SANDWICH @ DORADO
Across the street from Marty's Meats, you will find some Latin flair by way of Dorado. Now some of you may already be familiar with Dorado's offerings, but have you tried their Chipotle Fish Sandwich yet? It is comprised of seared tilapia filet that is layered with a zesty chipotle aioli, shredded greens, and a layer of guacamole. The best part of the sandwich is the CHEESE that is crisped and protrudes out of the sandwich to give you a nice, crunchy texture. All sandwiches are served on Baker Street's Portuguese rolls and served with simple fresh greens. Baker's Street bread is insane. I like this sandwich because it won't leave you feeling heavy & you won't feel guilty about ordering a few Coconut Margaritas to sip on that sunshine day. May I repeat Coconut Margaritas? Put the lime in the coconut!
Dorado is located at 690 Park Avenue across the street from Marty's Meats (585-244-8560, doradoparkave.com )
8. THE HOWIE WOWIE MAUI ISLAND SANDWICH @ STICKY LIPS BBQ
Last year, Sticky Lips BBQ celebrated their 10th anniversary of serving good old fashioned bbq to us. That anniversary brought on a few new sandwiches. One of them being the Howie Wowie Maui Island Sandwich. Say that 3x in a row. I dare you. I actually tried this sammy for the first time at the Lilac Festival this year. It is a nice twist to their original bbq pork by taking their Pulled Pork drenching it in a mango infused bbq sauce and adding an island fruit chutney on top. The combination of these flavors made me say WOWIE out loud and I didn't care who heard me. Visit the original location on Culver & Atlantic and stop over to Lost Borough Brewing Co. afterwards to drink up a few delicious brewskies. I would recommend doing a flight and make sure to try the Lost Bourough 007 IPA! Pork + Beer is a no-brainer.
***Save $5 or $10 by using your Rochester City Dining Card App
Sticky Lips BBQ has 2 locations at 625 Culver Road & 830 Jefferson Road (585-288-1910, stickylipsbbq.com)
9. BANH MI SANDWICH @ CURE
I'm so proud of my Vietnamese heritage and Banh Mi Sandwiches are kind of our thang. Also, my dad's name is Banh, so I have a big SOFT spot for these suckers. In Cure's version you will get pork sausage, country pate, pickled vegetables, a house made spiced mayonnaise served on a toasted baguette from their neighbor, Flour City Bread. Try one of their lovely cocktails like the 1620 Japan to enjoy the remainder of summer! I know so sad right? Thank you Cure for doing this Bánh mì proud! If you are looking for Bánh mì sandwiches from local Vietnamese restaurants, then I would suggest: Pho Duong Dong, Nam Vang Family Restaurant, or Pho Viet Asian Noodle Bar. I am pretty confident you will get your Bánh mì fix on in Rochester.
Cure is located at 50 Public Market (585-563-7941, curebar.net)
I never knew what I was missing out on until I ventured into Rubino's flagship store. I always thought Rubino's was a sub shop vs. an Italian market. Welp, I was wrong. This place is so much more than a sub shop. It is an Italian market, deli, espresso bar, butcher shop, cheese shop, olive bar, sausage maker, bakery, etc. The Capo is like an Italian assorted sammy, but better. You have layers of pepperoni, mortadella, prosciutto, and hot capicola served with Italian seasoning, oil and vinegar, green olives, roasted red pepper, red onions, and mozzarella cheese. The rolls are made in house and baked fresh everyday. I'm not a huge olive person and I absolutely loved them in this sandwich. Last bit of advice, don't leave here without getting a cannoli, the almond cannolis are off the chain!
Rubino's Italian Food Market is located at 1304 East Ridge Road (585-338-2984, rubinos.net )
Hootie hoo! Hootie Hoo! I'm hollering at all of you Owl House lovers in my best owl imitation. I'm cool, I know. If you have yet to venture into the Owl House, then you are in for a treat. They are a killer spot for sandwiches, date night, craft cocktails and brunch. There are also plenty of vegan and gluten-free options available to cater to all appetites. The Cherub sandwich has grilled steak cooked perfectly with roasted portobellos, pickled red onions, arugula, and a bleu cheese sauce on a hoagie roll. The pickled red onions add an awesome tang, diffuses the strong onion taste, and adds a splash of color. For those vegetarians, try the Chickpea B.V.E burger with sriracha jam as an alternative! Delish.
***Save $5 or $10 by using your Rochester City Dining Card App
The Owl House is located at 75 Marshall Street (585-360-2920, owlhouserochester.com)
That's a wrap kids. I hope you enjoyed this blog post and as always feel free to leave a comment to share some of your favorites. I have a feeling some of you may ask why didn't you mention this sandwich or that one. Truth be told, there are so many fantastic sammies in Rochester and it is just a testament to the talent and deliciousness we are surrounded by. Thanks for tuning in and I'm so excited for our sandwich extravaganza to begin!