Picture this. Your alarm sounds off and you force yourself out of bed. You're still groggy and feeling that extra glass of wine from last night. Believe me, we've all been there.
The only cure is a hearty breakfast sandwich and a strong cup of coffee. A quality breakfast sandwich can transform your morning from 0 to 100. That is why I've compiled a list of 11 mouthwatering breakfast sandwiches in Rochester that will make everything right in the world again.
All of these breakfast beauties range between $3 to $10 and are worth getting out of bed for. I'd love to hear your personal favorites, so be sure to comment below.
Get ready to rise and shine campers, here is your breakfast sandwich roundup in no particular order.
First one out of the gate, Harry G's Deli. Who doesn't love Harry G's? Am I right?! Not only are they a stellar deli and cafe with made-to-order sandwiches, they now serve an extended breakfast menu where you can find the sandwich featured in the cover photo above. The Espresso Sauce Maple Bacon Egg sandwich (I dare you to say that 5x in a row) is a two egg sammy topped with maple cheddar cheese, bacon and espresso sauce brushed on a round croissant. Whoa baby. A massive sandwich, so if you are willing to buddy up, I'd recommend it. This sandwich is the perfect way to fuel up before you shop 'til you drop in the South Wedge neighborhood (Little Button Craft & Press, Abode, Thread, Happy Earth Tea, Hedonist Chocolates and more).
SIR ROCHA SAYS: #YouHadMeAtEspresso Breakfast Sando
Harry G's Deli is located at 678 South Avenue, Extended breakfast menu available Saturday & Sunday (8am-2pm) 585.256.1324
The 'Denver' from a sweet cafe called Founders is located in the heart of the city at the Academy building. Last year when I posted my 11 Sandwiches to Devour post, one of my readers named George commented that I needed to try the 'Denver' at Founders Cafe. George, I listened to your advice my friend and you were spot on. This is a prime example of why I love hearing from you all and your awesome suggestions. The 'Denver' is comprised of ham, eggs, peppers, onions, cheddar cheese on the most delicious ciabatta roll. I have to admit that my husband and I traded out the ham for the bacon, but only because my husband is a bacon guy. You also have your other breakfast sandwiches: American Classic, Florentine, the Benny, and the Tardy Student all under $5. Now that's a steal!
SIR ROCHA SAYS: #WakeUpYourWorkDay Breakfast Sando
Founders Cafe is located at The Academy Building, 13 S. Fitzhugh Street, Breakfast available weekdays (7am-11am) & Saturdays. 585.770.1721
If this picture isn't enough for you, then close your eyes for a second. I wanted you to envision a delicate & flaky caramelized onion danish, with bacon, cheese, and an over easy egg that oozes that sexy yolk when you bite into it. Warm. Buttery. Oh so good. I know you are heading over to the Rochester Public Market as we speak. Plus, everything is sourced locally with the eggs from Old Home Farms, cheese from First Light, and sausage/bacon from Swan Market. Keith Myers and his team make our lives increasingly better on Thursdays and Saturdays. If you recall, I've talked about this artisan bakery before in my 6 Bake Shops to try in Roc City blog post. A haven for fresh local ingredients and handcrafted goodies. Their almond croissants make me swoon and the same can be said for their breakfast sandwiches. Grab a cup of joe from Java's next door and let's do this.
SIR ROCHA SAYS: #IMustbeDreaming Breakfast Sando
Flour City Bread is located at 52 Public Market, open on Thursdays (7-2pm) and Saturdays (6am-2pm). 585.957.3096
I've professed my love for Hart's before and I'm willing to do it all over again for this breakfast sandwich. I knew when writing this post, Hart's signature breakfast sandwich had to be included. You've got two eggs fried over hard, crispy pancetta, fresh arugula, slices of avocado and a dollop of Sriracha mayonnaise inside of a toasted roll. Now that is what I call a bonafide breakfast sandwich. I have to give a shout to one of my readers, MaryBeth as this is her all-time favorite. I got you girl. Now what do you say we all meet for a signature breakfast sandwich, do some grocery shopping, and then head to Ugly Duck Coffee after for a cortado? See you then.
SIR ROCHA SAYS: This one's easy. #SirRochaSays Breakfast Sando
Hart's Local Grocers is located at 10 Winthrop Street, open 7am-9:30pm Daily. 585.521.4278
*Updated August 2018
Nothing says breakfast more than a CLASSIC breakfast sandwich. Scott's II breakfast sandwich has been a household favorite for many people who visit the Rochester Public Market. Hot, fresh, and ready to go as your peruse through the market. You can grab a simple breakfast sandwich with your choice of meat (ham, bacon, Canadian bacon, sausage, bologna) with eggs, and cheese for $5 buddy. I went with the eggs and bacon and they all come on a Martusciello roll. BEST rolls in the ROC. You haven't lived until you have had one of these. Plus, there is nothing wrong with sticking to the classics.
SIR ROCHA SAYS: #BangForYourBuck Breakfast Sando
Scott's II is located at the Rochester Public Market, 280 Union St. N, open on Tuesdays and Thursdays from 6am to 1pm, Saturdays 5am to 3pm
Alright so technically, Woody's cafe is in Canandaigua, but it's close enough to Rochester so it makes the cut. Totally worth the drive over. Scrambled Eggs, NY Cheddar, Woody's breakfast sauce and wait for it...CANDIED BACON sandwiched in a roll. The candied bacon is everything. Not to mention the home fries. Owners, David and Liz Buchanan opened Woody's Cafe in 2015 and focus on dishing out simple, beautiful, wholesome food. The best way to describe their food is soulful. They are adamant about supporting local from their eggs to their meat, and you'll find them using many locally sourced ingredients. This spot is an absolute gem and I hope more and more people swing by here for brunch, lunch, and pumpkin chai lattes! *Make sure to bring cash with you as it is CASH only.*
SIR ROCHA SAYS: #BringHomeTheCandiedBacon Breakfast Sando
Woody's Cafe is located at 2374 State Route 332, open on Wed-Sat (7-2pm) and Sun (8:30am-12pm). 585.412.6432
Driving slow on Sunday morning...and I never want to leave. That's how I feel when I head to the Brighton Farmers' Market on Sunday mornings (9-1pm) at Brighton High School. There are a substantial mix of purveyors to choose from & an A-list line of food trucks with Neno's being one of them. The tacos and tortas they serve are out of this world! But today we're talking breakfast sandwiches and we have to talk about the 'El Pambazo'. Pambazo is the name of a Mexican white bread dipped into a sauce made from gaujillo chiles. Filled with Chorizo, hash potato, queso fresco, and fried egg on white toast with gaujillo mayo. It's not crazy spicy if you are worried about the heat. It packs a ton of flavors and big enough to share with that special someone. To continue your breakfast tour, you should also stop at Fuego Coffee, Marty's Meats and Le Petit Poutine. Food truck heaven, right? Outside of the Brighton Farmers' market, you can always keep up where Neno's is via twitter and chase down gourmet Mexican street food at its finest.
SIR ROCHA SAYS: #AyDiosMio Breakfast Sando
Neno's is located at the Brighton Farmers' Market, on Sundays (9am-1pm). 585.455.7394
8
MARKET SANDWICH @ FIORELLA
Fiorella has been making waves ever since they opened last year. Chef Gino Ruggerio and team never fail to impress me with their honest, authentic, Italian cuisine. It makes complete sense why their breakfast game is just as strong. Let me introduce to you to their superb breakfast sandwich which includes: Westwind fried farm eggs, provolone, and bacon, on a Flour City Bread Co. Seeded roll for $6. One bite and you're going to be dancing around the market on cloud nine. You can thank me later for that.
SIR ROCHA SAYS: #MightyMightyBosstones Breakfast Sando
Fiorella is located at 5 Rochester Public Market, open on Wed-Fri (11am-2pm & 5-10pm) Sat opens at 10am. 585.434.5705
If you've been keeping up with McCann's Local Meats lately, they are unstoppable. Kevin was recently featured in the D&C talking all things food with Tracy Schuhmacher, check out their video here. I had the absolute pleasure of dining with both of them and other local business owners to hear their back story and incredible journeys. In fact, if you subscribe to the D&C, you may recognize someone in the premium edition about the Rochester Food Scene! Check it out. Back to the 2x2x2x2, we are talking Eggs, Cheese, Bacon, and Ham! My oh my. The Steak & Eggs sammy is another solid choice. You can always trust the meat here is sourced from local and sustainable farms. Kevin is a beast in the kitchen, and he and his wife Mo, autograph their work with nothing but excellence. P.S. They serve brunch now. YASSS!
SIR ROCHA SAYS: #BeastMode Breakfast Sando
McCann's Local Meats is located at 739 Clinton Ave S., open Mon-Friday (10-7pm) & Sat (9-5pm).585-EAT-MEAT
10
WAFFLE SAMMY @ ROUX
This deserves way more than a 'Leggo my Eggo' reaction. You can close your mouth now. Now I know this is not your typical breakfast sandwich and you may have to eat with a fork. But I don't even curr, because this sammy is that good. Fried Egg? YES. Gruyère cheese? YES. Cardamom Bacon? HELL YES. Maple Syrup? Please pour on that maple syrup honey. Sandwiched between two waffles and I've never seen anything more magical. Eleven from Stranger Things would be in her glory here and so am I.
SIR ROCHA SAYS: #EverydayImWaffling Breakfast Sando
Roux is located at 688 Park Ave, Brunch is on Sundays 11am-2pm. 585.461.2690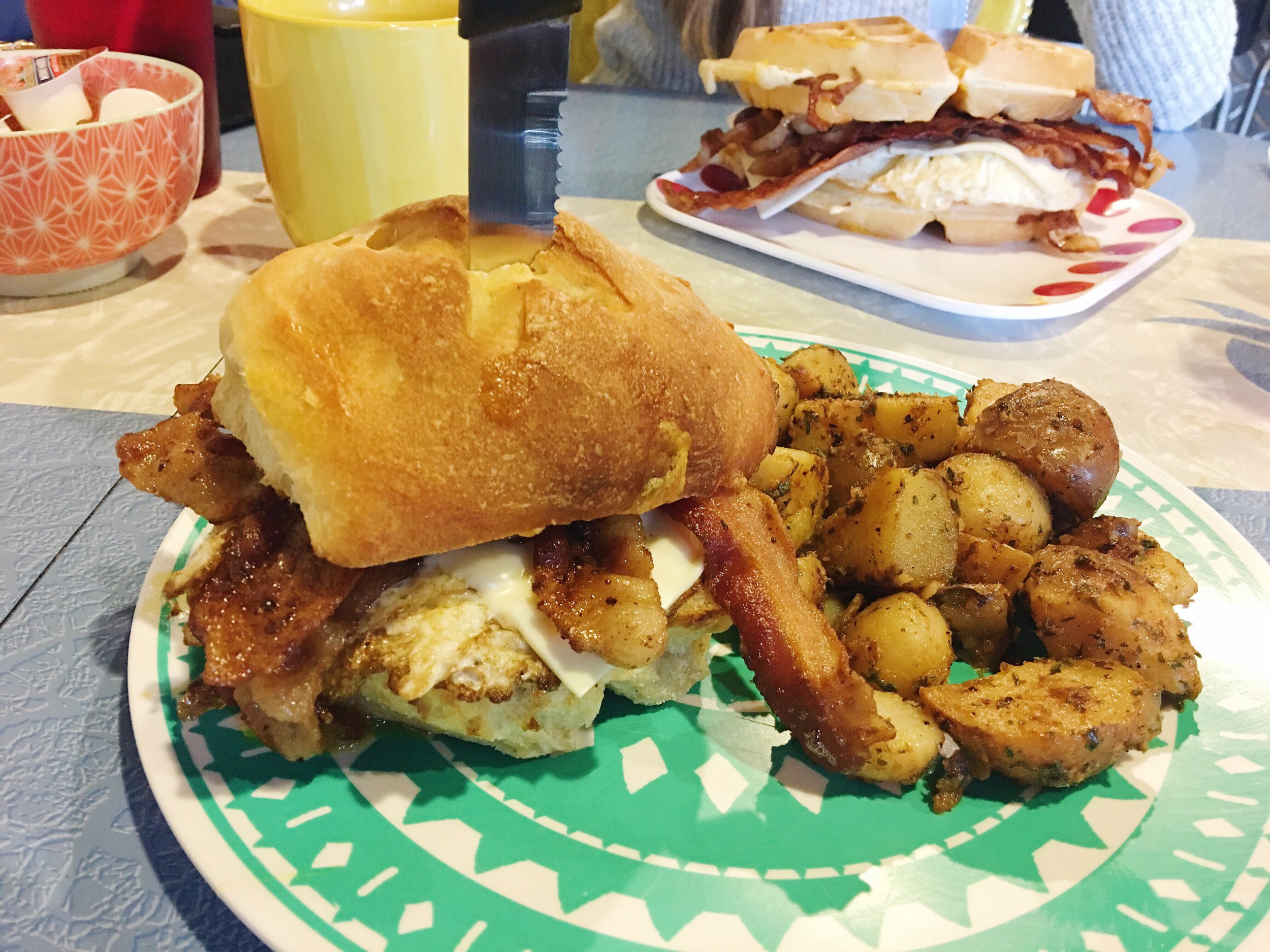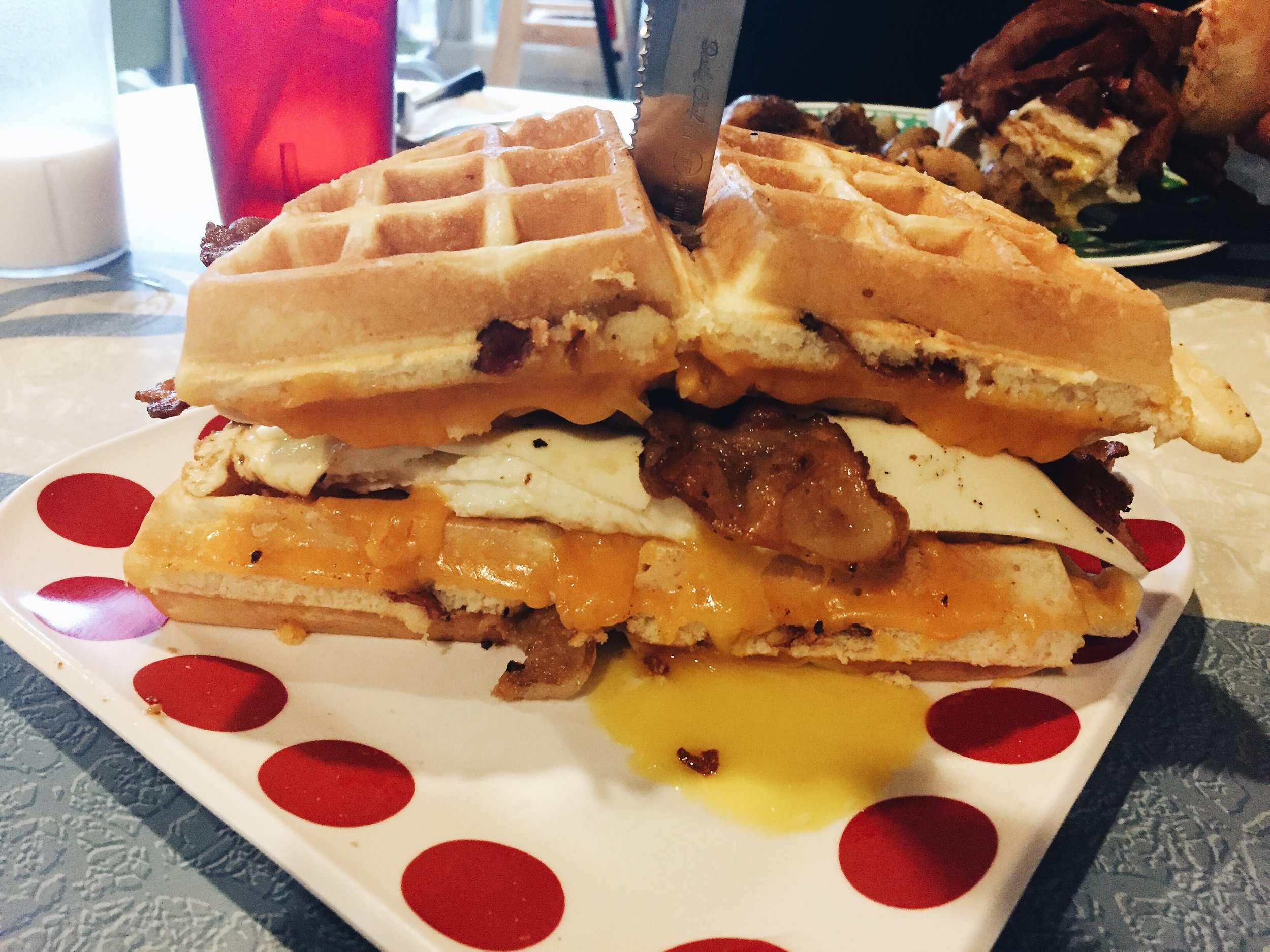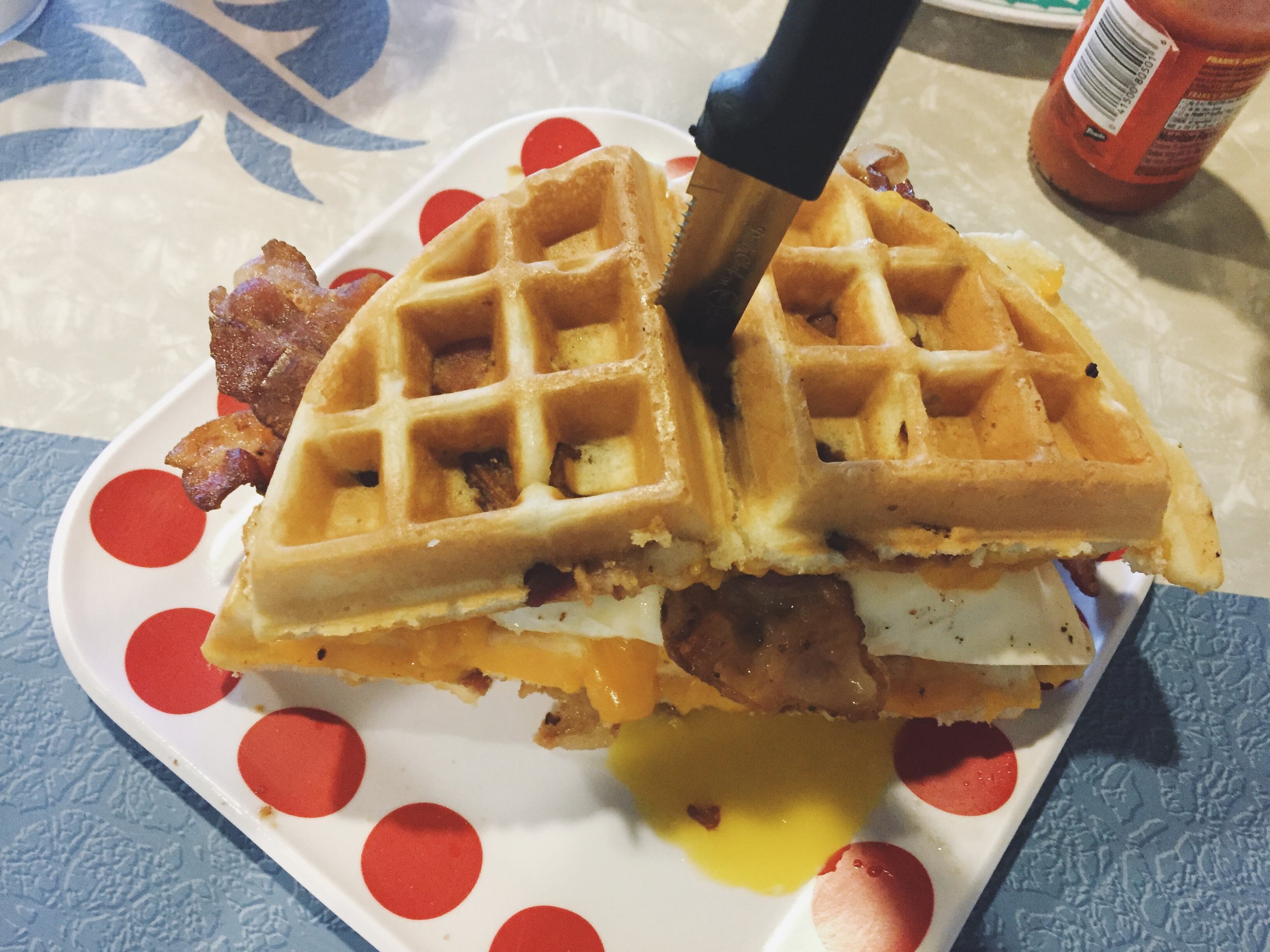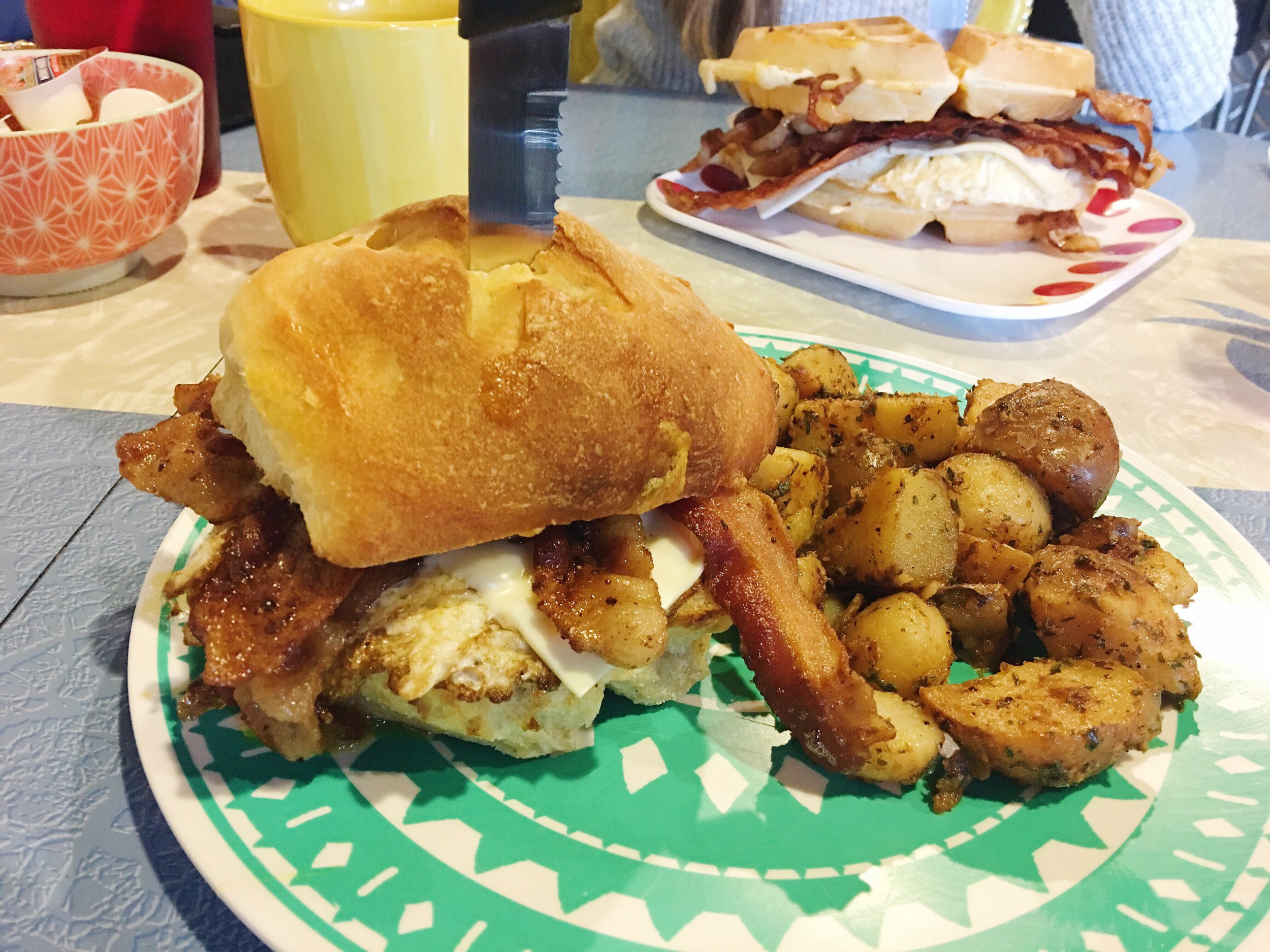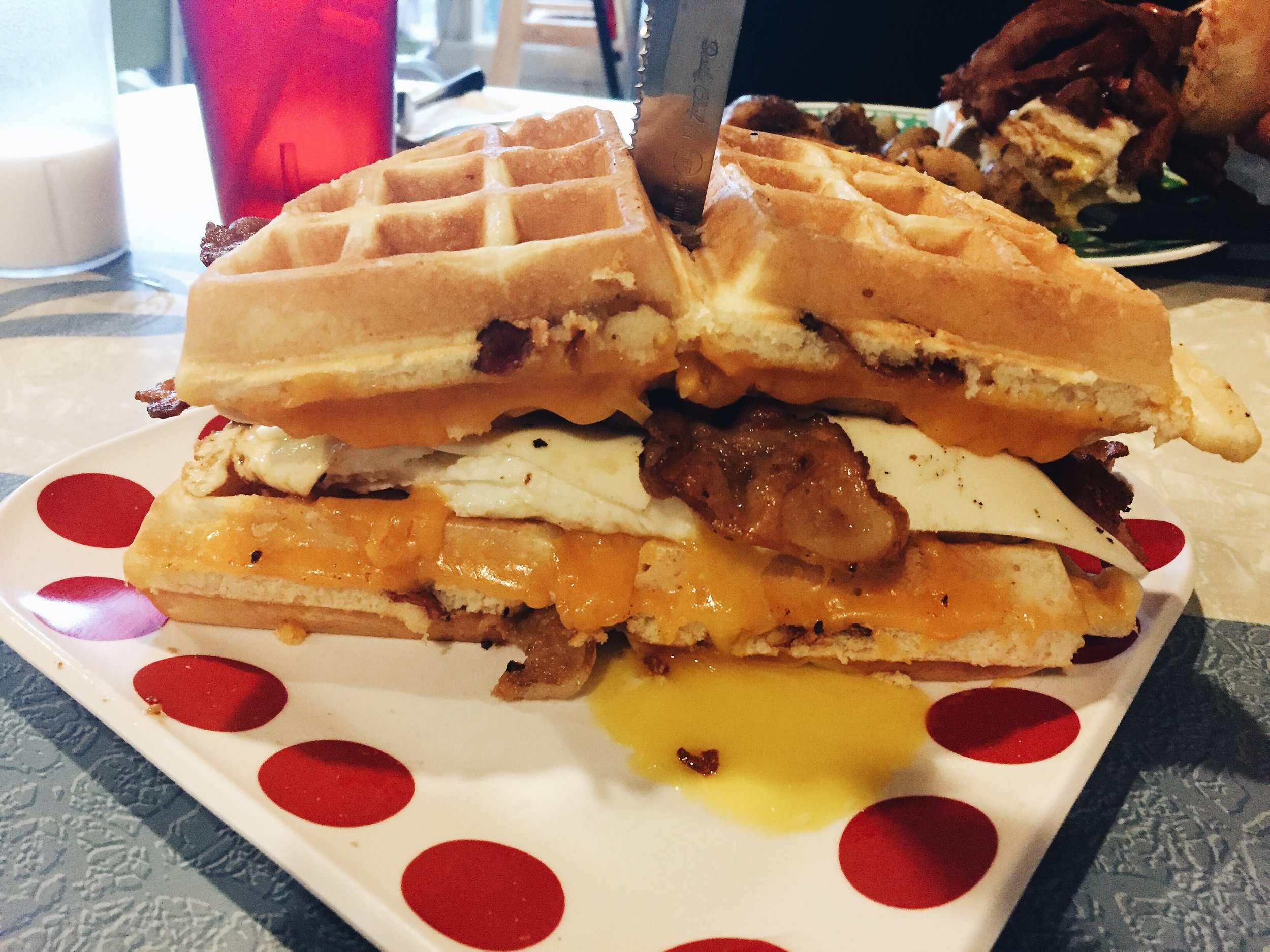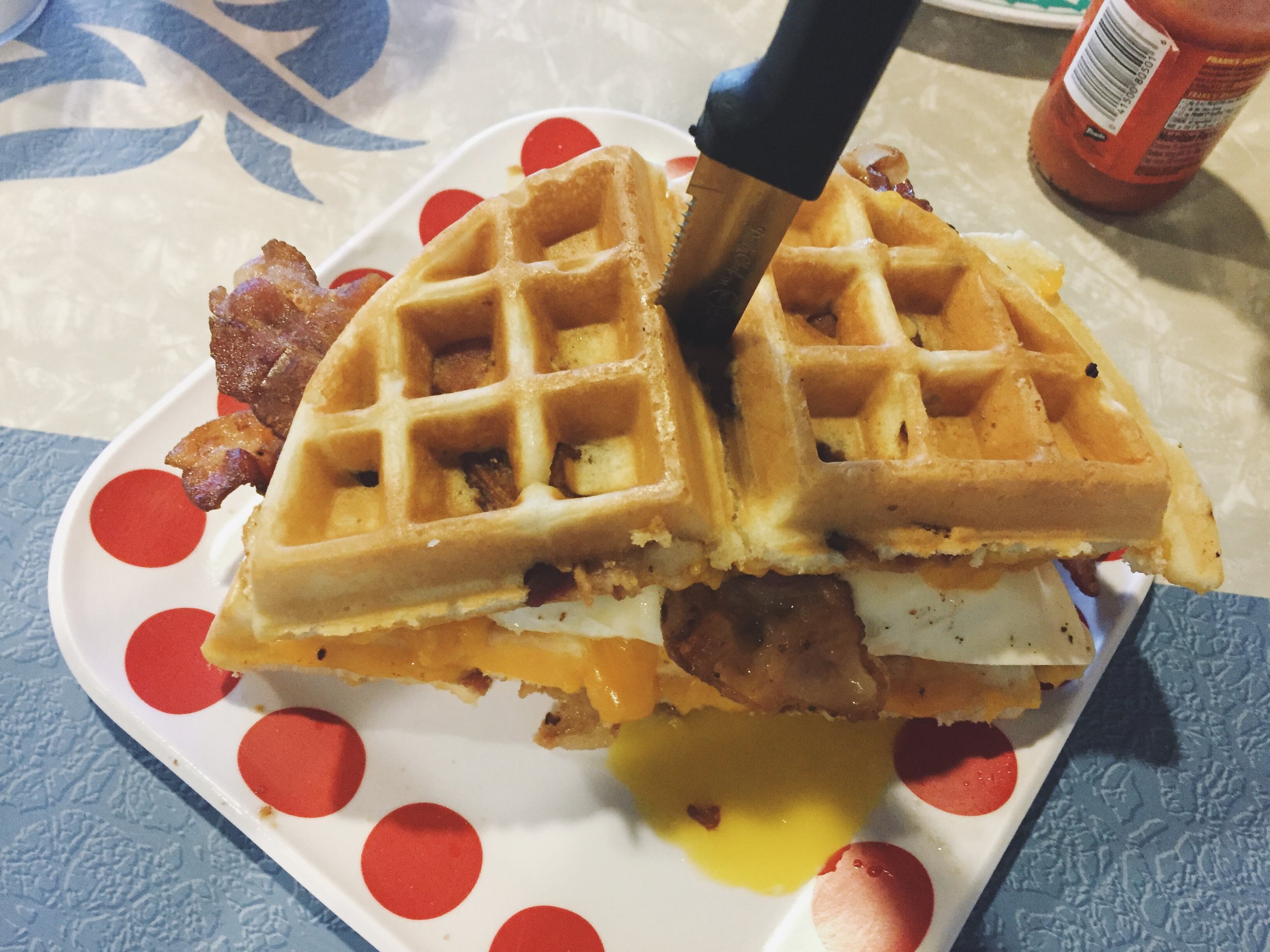 I heard you guys, loud and clear. Many of you asked, "WHAT ABOUT SHMEG'S?" and professed your love affair with them. So I did the only thing a food blogger should do. I hunted down their breakfast sandwiches. I had visited Shmeg's before for the Mick Toast (French toast crusted with Frosted Flakes, OMG) and their XM breakfast plate with that flavorful homemade sausage, but had yet to try the sandwiches. Boy, was I in for a rude awakening. My husband and I shared the 'Chubby' ($5.99), a two egg breakfast sammy with crispy bacon, cheese and a side of potatoes ($1 extra). We also couldn't leave without trying the mighty 'Wafflopolous' ($10.99 for the half size). At first I was like, Waffa-laffa-who? Bahahaha. A delicious waffle sandwich filled with over easy eggs, cheese, and bacon or the meat of your choosing. I'm pretty sure they had to roll me out of there from feasting, but I did it all for the waffle. We chose the half size for $10.99 This diner in Gates serves up GINORMOUS portions and tasty food. I'm with y'all now and we can go eat at Schmeg's over and over again.
SIR ROCHA SAYS: #ForTheLoveOfShmegs Breakfast Sando
Shmeg's is located in Gates at 3027 Buffalo Rd., Tuesday-Friday 6-2pm, Saturday & Sunday, 6-3pm. 585.481.2036.
As always my friends, thanks for reading. I know there are so many outstanding breakfast sandwiches to choose from Rochester and it was hard to choose only 11. The good news is that your journey doesn't stop here and you get to continue exploring all that Rochester has to offer.
To end, I wanted to share that I was recently nominated in the Rochester City Newspaper's #BestOfRoc 2016 ballot across 4 categories: Best Local Website, Best Instagram, Best Facebook, and Best Twitter. I am over the moon and so honored to be nominated especially amongst incredibly talented folks. Keep spreading that Rochester love!